Graduate students in the Graduate Program in Theatre & Performance Studies are involved in a wide range of scholarly and creative projects, at the local, national, and international level. This page highlights recent student publications, conferences, internships, theatre/performance projects and gives you the opportunity to meet some of our students.
---
Performance Discuss
The Graduate Students of Theatre & Performance Studies will be hosting  PERFORMANCE. DISCUSS. is cabaret-style practice- and research- focused event that provides grad student artists and researchers with an opportunity to present their work in a fast-paced, celebratory showcase.
When: Thursday, March 16, 2017
Where: Buddies in Bad Times Cabaret, 12 Alexander Street
Facebook page: https://www.facebook.com/events/186642461833442/
There will be snacks + drinks, a raffle, performances, discussions and, critically, DANCING. (And possibly Critical Dancing.)
Come join us for an evening that explores, presents and considers performance in all its various forms!
Performing Objects Cabaret
Curated by: Marlis Schweitzer
Graduate students in the "Performing Objects and Theatrical Things" course will be presenting an "object cabaret" as one of their final class projects and we'd like to invite you to attend. The cabaret will involve a series of short performances no more than five minutes each, so feel free to stop by for some or all.
When: 11:30-1:00 pm, Thurs. Dec. 1
Where: Accolade East Building 209

About the course:
THST 6305 3.0 Performing Objects and Theatrical Things
This course responds to the recent turn towards "new materialism" and "posthumanism" in Theatre & Performance Studies, evidenced by the uptake of thing theory, actor-network theory, vital materialism, object-centred ontology, and other new materialist methodologies in the work of numerous scholars.  Students will encounter a range of theories and methodologies for thinking through and with objects in their research.
The Arts and Research Salon
The Graduate Student Association will be hosting The Arts and Research Salon this weekend.
When: Saturday, November 19, 2016
Where: The event will take place at the Storefront Studio Space, located at 296 Brunswick Avenue, just south of Brunswick and Bloor. The closest subway station is Spadina Station.
After the event, we hope people will stick around to continue discussions at a nearby pub.
Please email signy.lynch@gmail.com if you have any questions. Looking forward to seeing you there!
This is an informal event and no preparation on your part is required. We have devised a number of loosely structured activities and discussion exercises to facilitate arts and research collaboration and networking among grad students.
---
Centre for Imaginative Ethnography (CIE)
The Imaginative Ethnography Symposium:Ethnography, Imagination & Indigenous Settler-Relations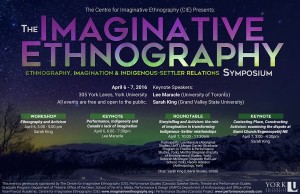 Curated by: Magdalena Kazubowski-Houston, Laura Levin, and Marlis Schweitzer
The symposium will include a series of guest speaker events and a workshop for graduate students held on April 6 & 7, 2016
on York University Campus, Room 305 York Lanes.
Keynote Speakers:
Professor Lee Maracle is the author of a number of anthologies including the award winning publication, My Home As I Remember.  She is a member of the Sto:Loh nation.  In 2009, Maracle received an Honorary Doctor of Letters from St. Thomas University.  Maracle recently received the Queen's Diamond Jubilee Medal and the premier's award for excellence in the arts.  Her latest works are: Celia's song [novel], Memory Serves and other Words [creative non-fiction] and Talking to the Diaspora.
Professor Sarah King - ethnographer, environmental philosopher, and anthropologist of religion - is interested in the role that religion and culture play in shaping human relationships to the natural world.  Her areas of specialization include:  comparative religion; place; ethnography and community-based research; Indigenous-settler relations in North America; environmental values and conflict; food justice and sustainable agriculture; and North American environmentalism.  She is the author of Fishing in Contested Waters: Place and Community in Burnt Church/Esgenoôpetitj (University of Toronto Press, 2014), and currently teaches in the Liberal Studies Department at Grand Valley State University.
Workshop: Ethnography and Activism, Sarah King - April 6, 3:00-5:00 pm, 305 York Lanes
This workshop, open to graduate students from across the university, will attempt to build a collaborative, critical conversation exploring the relationship between ethnography and activism.  Who employs activism in the ethnographic field?  Is the work of ethnography itself activism?  How is research changes when collaborators or community members within the ethnographic field see academic researchers as targets for transformation?  Where are there opportunities for ethnography to help build transformative communities, and when should we take them?
Keynote: Performance, Indigeneity and Canada's lack of imagination, Lee Maracle - April 6, 6:00-7:30 pm, 305 York Lanes
Roundtable: Storytelling and Activism: the role of imagination in transforming Indigenous-Settler relationships - April 7, 10:00-11:30 am, 305 York Lanes
This roundtable will include keynote speakers Lee Maracle and Sarah King, as well as Martha Stiegman (Faculty of Environmental Studies, York), Megan Davies (Graduate Program in Theatre & Performance Studies, York), Deborah McGregor (Osgoode Hall Law School, York), and Naomi Adelson (Anthropology, York.) Roundtable participants will share stories about the role of imagination in transforming Indigenous-settler relationships.  The roundtable chair, Sarah King, will offer follow-up questions, and facilitate a dialogue between the presenters and the audience.
Keynote: Contesting Place, Constructing Activism: examining the dispute at Church/Esgenoôpetitj NB, Sarah King - April 7, 3:00-4:30 pm, 305 York Lanes
After the Supreme Court's 1999 Marshall decision upholding Mi'kmaq fishery rights, a prolonged violent conflict broke out over indigenous fisheries at Burnt Church/Esgenoôpetitj NB.  The inability of the Canadian public (writ large) to attend to the values and concerns that motivate those involved in the dispute inflamed and prolonged the violence.  This presentation explores some of the activist strategies employed by dispute participants to draw attention to their values and concerns, the stories that local people tell about these strategies, and the ways that they make sense of their experiences now that the conflict is over.  Paying attention to the complexity of disputes such as the one in Burnt Church is itself a critical strategy in resisting the 'whitewashing' of Canadian identity and politics.
All lectures are free and open to the public.  However, the workshop is full.  If you want to have your name placed on the waiting list, or for more information on the symposium, please email Magdalena Kazubowski-Houston.
Special thanks to our sponsors:  Theatre and Performance Studies Graduate Program, Performance Studies (Canada) Speaker Series; Department of Theatre; Dean of Arts, Media, Performance, and Design (AMPD); Department of Anthropology; and Office of the Vice-Provost Academic.
Centre for Imaginative Ethnography
Performance Studies (Canada) Project
---
DisPerSion Lab
The DIStributed PERformance and Sensorial immersION Lab, located at York University, is dedicated to research-creation projects which examine questions surrounding instrumental and gestural expression, embodied perception, time consciousness and performative agency in the context of envisioning new forms of interdisciplinary creative practice.  The lab space is defined by an environment suffused with reactive, intelligent digital media within which to explore new forms of artistic expression, and new insights into how we sense, process and interact with the performing arts in the post/digital age.  The lab culture is defined by improvised inquiry and exploration of distributed creativity through music and movement-based performance practices that are mediated by contexts such as the physical distribution of performers across internet-based networks, and distribution of creative decisions between human performers and "artificially creative" computational agents.   
Areas of Creative and Scholarly Interest Include:
Experimental Music and Sound Art/Theory
Improvisation and Distributed Creativity
Human/Machine Agency
Machine Learning and Artificial Intelligence Applied to Performance
Telepresence
Deep Listening
Movement and Computation
Sonic and Haptic Perception
Phenomenology of the Temporal Sense
Gesture and Embodiment
Biophysical Sensing and Performance
New Instrumental Systems for Performance
Material Computation
Composing for Immersive Environment
Sensory Substitution
Live Coding as Performance Practice
Sound Analysis, Transformation, Synthesis, Classification
The DisPerSion Lab meets Every Tuesday and Thursday at 5 pm unless otherwise noted.   (Meetings every Tuesday, Play Sessions every Thursday)
DisPerSion Lab Inaugural Meeting - October 13th, 5:00 pm, CFA 334
Lab director Doug Van Nort will give a brief 15-30 minute overview of research interests and lab focus.  Discussion and meet & greet will follow.
DisPerSion Lab Inaugural Play Session - October 15th, 5:00 pm, CFA 334
Weekly play sessions in a variety of media, drawing heavily on improvisation and experimentation.  A time to develop a practice, test ideas, etc.  Come by and play!
---
Performance Studies (Canada) Speaker Series 2015-2016
Workshops and Presentations with Doris Difarnecio, Director of Centro Hemisferico in Chapas, Mexio
We are delighted to kick off the series with a visit from Doris Difarnecio, Director of Centro Hemisferico in Chiapas, Mexico.  Centro Hemisferico is an interdisciplinary arts space located in San Cristóbal de las Casas, and a satellite headquarters of NYU's Hemispheric Institute of Performance and Politics developed in collboration with Fortaleza de la Mujer Maya (FOMMA), an internationally renowed collective of Indigenous women who use theatre as a tool for education and community building.  Difarnecio has been instrumental in developing Centro Hemispherico's public programming around art, politics, and performance, directed theatre pieces with FOMMA since 1999, and has created a number of important urban interventions in response to femicide in Mexico.  
1. Workshops
Difarnecio will be leading two performance workshops open to students from across the university.  The workshop will explore corporal and gestural techniques in popular theatre, with a focus on how engaging with the politics of body and memory can open up diverse strategies in performance.
Workshop 1 - Tuesday, September 22, 2:30-5:30 pm and Friday September 25 8:30-11:30 am  in Accolade East 207
Workshop 2 - Wednesday September 23, 11:30-2:30 pm and Friday September 25, 11:30-2:30 pm in Accolade East 207.
2. Lecture
Difarnecio will give a talk and visual presentation on her popular theatre work with FOMMA and the urban performance actions and installations she has staged against femicide in the region of Chiapas, Mexico.
Thursday, September 24, 10:30-11:20 am in Kaneff Tower 956.
The lecture if free and open to the public.
Special thanks to our sponsors, York's Department of Theatre, Graduate Program in Theatre and Performance Studies, Performance Studies (Canada) Project, Centre for Research on Latin America and the Caribbean, Canadian Consortium on Performance and Politics in the Americas, Office of the Vice-Provost Academic, Pan Am/Parapan Am Games @ York.
---
Hard Twist 10: Memory
Opening Reception at The Gladstone Hotel
Thursday, September 10, 7:00 - 10:00 pm
Current PhD student Paula John, and recent PhD graduate Helene Vosters, each have a piece in the 10th annual Hard Twist textile show at The Gladstone Hotel.
This edition of the Gladstone Hotel's signature show of textile-based art explores the many and complex relationships between cloth and memory.
For more information on the exhibit, please see here.
---
Performance Studies (Canada) Speaker Series
Robert Diaz: Queer Filipino/a Performance and the Canadian Multicultural State
Monday, March 23, 10:00 - 11:30 am 
*Please note this lecture has been postponed due to the labour disruption.  We will update this with new information as we can*
Centre for Film & Theatre, Room 301, York University**
Co-sponsored by the Performance Studies (Canada) Project and York University's Graduate Program in Theatre & Performance Studies
Abstract
In this presentation, Robert Diaz examines how queer Filipinos/as perform a repertoire of histories that destabilize the Canadian nation-state's strategies for disciplining and imagining difference.  How might queer Filipinos/as deploy inherited histories that unsettle the geopolitical specificities of American colonialism, and in the process expose Canadian multiculturalism's Orientalist and racist underpinnings?  How might such a historical repertoire foreground the tense proximities between the experiences of non-Native people of colour and the experiences of Native communities in Canada, who continue to be disempowered through insidious practices of settler colonialism? 
By focusing on key vignettes - the abjection of transgender Filipinas in the workplace and
queer Filipino embodiment in contemporary Filipino Canadian art - Diaz suggest that queer Filipinos/as enact performances, memories, and desires that refuse to fall in line around the very identitarian tenets from which Canadian multiculturalism gains its power and political dominance.
Biography
Robert Diaz is an Assistant Professor in the Faculty of Liberal Arts and Sciences at OCAD University.  His teaching and scholarship focus on the intersections of Sexuality, Filipino, Asian, and Postcolonial Studies.  Diaz is currently editing Diasporic Intimacies: Queer Filipinos/as and Canadian Imaginaries (under contract with Northwestern University Press), which brings together artists, scholars, and community workers in order to examine the contributions of queer Filipinos/as to Canadian culture and society. His research has appeared or is forthcoming in Signs: Journal of Women and Culture in Society, GLQ: Journal of Lesbian and Gay Studies, Women and Performance, The Routledge Companion to Asian American and Pacific Islander Literature, Philippine Palimpesests: Essays for the 21st Century, and Plaridel.
** Please note that we will hold the talk off-campus (venue TBA) if the current labour disruption continues.
See the event page here.
---
Sensorium: Centre for Digital Arts and Technology
Symposium April 15, 2015
Collapsing Constellations: Remapping Art, Science and the Planetary
Call for papers, presentations, submissions and applications
Keynote Speaker: Natasha Meyers, Department of Anthropology, York University.
In our current ecological moment of crisis a collision between art and science is not only necessary, but inevitable.  Many social and environmental activists are proposing an ecological politics that encompasses the physical in terms of a singular planetary conception.  The inaugural Sensoium: Centre for Digital Arts and Technology Graduate Symposium, Collapsing Constellations: Remapping Art, Science and Planetary seeks to explore imagined and practical spaces that exist between contemporary ecologies of knowledge - envisioning new routes for intellectual migration and pollination.
Sensorium is currently inviting proposals for presentations which revolve around these constellations and engage critically with the multiplying intersections of art and science within contemporary and historical practices.  We are particularly interested in the intersection of art, science and planetary as they are concerned with climate change and our ecological moment.  This one-day symposium will offer a unique symbiotic opportunity for emerging researchers and artists to gather, exchange, bond, and cross-fertilize future landscapes for research materializing at disciplinary boundaries.  If you are an artist invested in science and technology, a scientist absorbed by art, or a researcher engaged with collaborative or interdisciplinary investigation please consider submitting a proposal for this exciting and collaborative event.
Potential topics/areas include, but are not limited to:
The planetary in and through emerging media
Digital cartographies and conceptions of climate change
Funktionskreis, umwelt and theories of "the functional circle"
Bio-semotics, bio-philosophy, and bio-art
Critical thing theory and "vibrant matter"
21st century approaches to digital research and the environment
Human, animal, and planetary energy systems,
Global information networks and "the cloud"
Intercorporeity
Bodily cartographies
Deep data and deep earth
Cyborgs and the posthuman
Queer futurities
Presentation formats:
Posters, workshops, round tables, interventions/performances, presentations - traditional and experimental - and other emerging forms will be considered.  We encourage cross-disciplinary interpretations, variations and unforeseen mutations of our working themes.
Submissions:
We invite papers and presentations that critique, consider, and construct the intersection of art, science, the planetary and iterations therin.  Please send a 300 word abstract, along with a working title, short biography, and contact information.  If you would like to submit a joint proposal with several researchers/artists please send only one application that includes collective biographical and contact information.  Specify the format of your presentation, keeping in mind it should be no longer than 20 minutes in length (with 90 minutes for panels and/or round tables).  The final date for submissions is 30 January, 2015.
Email: sensoriumsymposium@gmail.com
About Sensorium:
Sensorium: Centre for Digital Arts and Technology is an experimental research centre based out of York University that supports cross-disciplinary work in all areas that intersect with digital media practices.  Sensorium is a nexus for new ideas and experimentation that incorporates work from diverse fields of study and creates spaces for innovative dialogue.  More information is available at: sensorium.info.yorku.ca
---
Professor earns second book award
Professor Darren Gobert has been awarded the Barnard Hewitt Award for Outstanding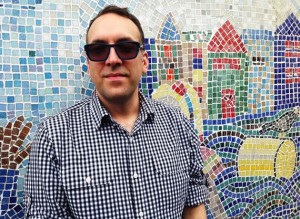 Research in Theatre History for his book The Mind-Body Stage: Passion and Interaction in the Cartesian Theater, published by Stanford University Press.  Gobert received the award at the American Society for Theatre Research (ASTR) conference in Baltimore in November.
This is the second award that Gobert has received for The Mind-Body Stage.  Last spring he was awarded the 2013 Ann Saddlemyer Award by the Canadian Association for Theatre Research.
"ASTR is the central organization in theatre research, and the Barnard Hewitt Award arguably the field's most esteemed book prize," said Gobert.  "I feel incredibly honoured to be joining the ranks of such past winners as Stephen Orgel, Martin Meisel, and Joseph Roach.  Last year's winning book by Judith Pascoe is one of the most remarkable works of theatre history I've ever encountered.  It's still hard to believe the company that I've been put in."
The Mind-Body Stage explores how Descartes' understanding of emotions has influenced theatre and how theatre has influenced Cartesian philosophy.  The book portrays the century after Descartes' death in 1649, a period of significant importance to both theatre and philosophy.
ASTR recognized The Mind-Body Stage for its innovative approach to theatre history, interdisciplinary scope and meticulous research.  Gobert conducted research for the book in England, France, and Sweden, where he analyzed a wide variety of historical documents, including letters, libretti, religious pamphlets, aesthetic treatises, and architectural plans.
The Barnard Hewitt award is given annually to an author whose book published in the previous year demonstrates outstanding research in theatre history.  Barnard Hewitt was an American professor who specialized in dramatic literature and theatre; he is considered a pioneer in the historical study of American theatre.
Gobert is Graduate Program Director in the Department of English and a member of the Graduate Program in Theatre and Performance Studies.  In addition to the Ann Saddlemyer and Barnard Hewitt awards, he has received a Dean's Award for Outstanding Teaching and the Polanyi Prize for Literature.
---
Performing the Accidental Archive
Call for Proposals: Papers, Installations, Performances, Manifestos, and Workshops
York University Theatre and Performance Studies Graduate Student Symposium
Symposium Date: April 17, 2015
Location: York University, Toronto***Deadline for Proposals: January 10, 2015***
Performing the Accidental Archive, the fourth annual York University Theatre and Performance Studies Graduate Student Symposium, invites submissions for papers, installations, performances, manifestos, and workshops.  In recent years, much theatre and performance studies work has been devoted to investigating, critiquing, and expanding upon the embodiments, objects, places, and practices that comprise the archive.  Performing the Accidental archive is a call to further these discussions by imaginatively exploring the places, practices, objects, and events that are archival despite themselves and that point towards the unintended and incidental remains of our everyday lives and actions.  The Oxford English Dictionary defines accidental as "not essential to the existence of a thing," and as something relating to or occurring " by chance, unintentionally, or unexpectedly [...] or produced by accident."  "Accidental Archives" then refers to the non-essential, the contingent, the secondary, the subsidiary places, objects, and actions that are unintentionally archived, or that remain in different, transformed, and stubborn, immutable ways.
Please respond to this call by submitting your 200-250 word abstract and a 100 word bio to yutpsgsa@gmail.com on or before January 10, 2015. Given the nature of the topic, we strongly encourage submissions that step outside of paper-presentation norms in order to explore concepts of alternative archival practices in both content and form.  Standard papers will still be accepted.  Please clearly indicate whether you are proposing a paper presentation, performance, manifesto, or workshop, and make sure to include your technical requirements (within reason).
Additional information can be found at yutps.ca
The Graduate Program in Theatre & Performance Studies frequently organizes and hosts events related to our students' and faculty's fields of interest.
---
Winter Home
Tuesday, February 3, 2015 at 2:30 pm
Accolade East Building  -  Room 207
A solo performance and multimedia installation by Michael Greyeyes
Created with Moynan King (Dramaturge) and Megan Davies.
This durational performance is approximately 90 minutes in length.
Winter Home was generously supported by the Ontario Arts Council.
---
Performance. Discuss.
The GSA of York Theatre and Performance Studies presents a new research event: Performance. Discuss.
The event will take place at VideoFag in Kensington Market on February 28, 2015.
Drawing on the cabaret format, this research-focused event will provide performance studies researchers (from across disciplines) with an opportunity to give short presentations on their research projects in a fun, fast-paced format.
We want to know about your performance related research - and we want to discuss it with you!
Please submit your proposals to: Julie Matheson (juliematheson@gmail.com) by December 10, 2014.
---
 Performance, Placemaking, and Cultural Policy Workshop
York University's Graduate Program in Theatre & Performance Studies and The Performance Studies (Canada) Project are pleased to present:
Performance, Placemaking, and Cultural Policy Workshop
Where: The Theatre Centre, 1115 Queen Street West, Toronto
When: October 31, 9:00 am - 4:30 pm
Co-sponsored by the Social Sciences and Humanities Research Council of Canada, The Theatre Centre, York U's Department of Theatre and School of Arts, Media, Performance, and Design, Simon Fraser University, University of Calgrary, OCAD University, McGill University, and Cape Breton University.  The workshop will ask: How are artists contributing to new forms of placemaking in Canada?  In what ways has the medium of performance become a key resource for city building and cultural development?
We have assembled a dynamic group of artists, administrators, and policymakers to address these timely questions, including: Pierre Allard & Annie Roy (Action Terroriste Socialement Acceptable); Franco Boni (The Theatre Centre); Ryan Cunningham (Native Earth Performing Arts); Jennifer Green (Toronto Arts Council); Iris Häussler (Independent Artist); Dale Jarvis (Heritage Foundation of Newfoundland and Labrador); Stephen Lawson & Aaron Pollard (2boys.tv); Cheryl L'Hirondelle (Independent Artist); Nicole Mion (Springboard Performance); Natasha Mytnovich (Artscape Youngplace); Joyce Rosario (PuSh Festival); Catherine Sicot (Elegoa Cultural Productions); and Sharon Stevens (International Avenue Business Revitalization, Forest Lawn).
A full schedule can be accessed at: performancecanada.com/events
Follow us on Facebook
---
Critically Kinaesthetic: Performing Bodies of Political Engagement
April 28, 2014
This year the graduate program in Theatre & Performance Studies collaborated with the graduate programs in Dance/Dance Studies for our third annual third Graduate Symposium Critically Kinesthetic: Performing Bodies of Political Engagement.
Thank you to all who made this event a great success! MA Student, Zoë Erwin-Longstaff provides her reflections on the event below.

York University's third annual Theatre and Performance Studies Graduate Symposium, Critically Kinesthetic: Performing Bodies of Political Engagement, took place this year on April 16 and 17. The largest symposium to date, the event featured more than thirty performers and scholars from across North America, presenting on a vast range of interdisciplinary work.
The opening night wine and cheese at the Heliconian Club in downtown Toronto featured two panels: one on "Postcolonial Geopolitics" and a second, "Embodying Borders."  These explorations of the body politic ranged from a discussion of the dancing body of the Yoruba figure, Xica da Silva, to one on the emotional labor undertaken by the Filipina Cultural Coordinator at Texas University. These talks were broken up by a live performance, Joya Powell's Movimento do Povo, a capoeira dance piece that overwhelmed the hall, evoking through intense physicality colonial relationships in Brazil. The four dancers bounded through the space, throwing their bodies in sharp sudden movements despite their physical proximity to the audience. It was an exhilarating demonstration. Meanwhile, throughout the opening reception, both panels and the dance break, Thea Fitz-James carried out a performance piece, Unraveling the Daughter's Disease: Secrets Knitting and The Body, a work that explores a family-trauma narrative through explicit body art and textiles.
April 17th began with the keynote address from philosopher, visual artist, and dancer Erin Manning of Concordia University.  Her talk, "Choreographing the Political," was drawn in part from her trilogy of books, from The Politics of Touch to Always More Than One.  Manning spoke about the ways in which sensing bodies react to existing political structures; such bodies not only move in pre-constituted space, they also through sheer movement challenge the borders of time and space. This theme of the troubling limits of embodiment was touched on at many of the panels.
Panel B, "Applications of Embodied Knowledge," took up this theme as it took into consideration the disabled body in performance and digital co-presence. "Sluts, Bitches and Trio A" discussed the materiality of women's bodies in performance as well as how these bodies become inscribed as political symbols. Here, topics for discussion ranged from the idiosyncrasies that manifest in re-performances of Yvonne Rainer's modern dance, Trio A, to the policing of women's bodies in legislation on sex work in Canada, and women's mobilizations around the word "slut" in the global "Slut Walk" protests.
The conference closed with an inspiring "long table" discussion where presenters and participants alike were encouraged to comment, interpret, theorize and question the day's talks and performances.  My "pod" had a particularly engaging and frank discussion on scholarly creativity and resistance, where Professor Manning shared some of her strategies for coming to a position of self-definition within the rigid structures of academia.
---
Book Announcement: Performance, Theatre, and Society in Contemporary Nicaragua
January 27, 2014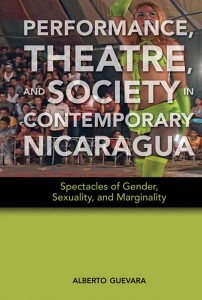 Theatre & Performance Studies Professor Alberto Guevara's newest book Performance, Theatre, and Society in Contemporary Nicaragua: Spectacles of Gender, Sexuality, and Marginality was recently published by Cambria.  With a view to furthering a critical ethnographic/performative epistemology, the book explores the methodological potentialities of research and presentation in Nicaragua. Through a methodology that combines ethnography and performance studies, called here "presentational ethnography," the book brings together theoretical and interpretive insights about the links among neoliberal politics, nostalgia of the revolution and public spectacles that challenge prescribed notions of gender, sexuality and marginality in Nicaragua.
---
Staging Sustainability 2014: People. Planet. Profit. Performance.
January 24, 2014
ArtsBuild Ontario and the Faculty of Fine Arts at York University, invite you to register for Staging Sustainability 2014, an international conference from February 2-5, 2014 hosted in downtown Toronto venues — 99 Sudbury, The Theatre Centre, the Great Hall.
Staging Sustainability 2014 will introduce you to ground breakers working across Canada, on Broadway, in London, in community gardens—as well as all points in-between—to remake the way we work in the performing arts. It will be the largest gathering of innovative sustainability practitioners in the world to focus on ways in which performance can positively affect our planet. We invite performing arts professionals including producers performers, technicians, funders, decision makers—and anyone interested in how the performing arts can support sustainability efforts—to attend Staging Sustainability 2014.
Performance has always been about how the work affects people. Now we are ready to look at how our performances can affect a sustainable world.
---
LINK & PIN
January 14, 2014
LINK & PIN
Current MA student Adriana Disman is curating LINK & PIN, a new performance art series in Toronto.
In addition to working towards an MA in Theatre & Performance Studies, Adriana Disman is curating a new performance art series, LINK & PIN.
Focused on performance art but presenting a vast range of interdisciplinary work, LINK & PIN turns the usual "evening of performance" on its head by presenting work on Sunday afternoons, allowing for a different kind of energy and attention with which to share and receive the work. With the intention of fostering links in the interdisciplinary arts community, each event is followed by a Discussion Forum, opening space for the artists and the public to engage in conversation about the work while sharing tea and (topical) dessert.
As well as presenting both national and international performers, the series invites two writers to report, comment, interpret, theorize and question the work. The series strives to invite writers who are from different disciplinary backgrounds (for example, one from Performance Studies and one from Art History) and at different points in their writing practices. Descriptive texts from past events can be found at LINK & PIN. Stay tuned for details on the publication of critical texts!
When asked what drew her to this project Adriana said, "A core philosophy of LINK & PIN is "try it." This has resulted in a myriad of curatorial structures and ways of programming artists including invitational, open call, and lottery. My willingness to organize these events (LINK & PIN is essentially a one-woman show- though I have support from my incredible intern Veronica Abrenica, and the awesome hub14) is based in my passion for the work. I look at my community and see artists whom I am deeply inspired by and who's work I want to support. Opening space for others to perform has always felt like a return to the community. Not particularly a "giving back" but rather intersecting circuits of reiteration that are the reproductive couplings through which we proliferate the work. Because it's hard to keep making art. Because we have to let each other know that we care about each other's work."
The first event in the series, FEMINIST FIBRES, investigated the intersection of feminisms, textiles, and performance. FEMINIST FIBRES looked more closely at recent trends in re-appropriating and politicizing craft and textile work that has, historically, maintained a gendered and marginalized status in the art world. The event featured pieces by current PhD candidate Helene Vosters as well as Theatre & Performance Studies graduate Thea Fitz-James (MA 2013). You can read about their pieces at LINK & PIN - Texts.
LINK & PIN's next event, REPERFORMANCE, takes place on February 8th and 9th. For REPERFORMANCE, York and LINK & PIN have teamed up to co-present a workshop by Victoria Stanton, one of the presenting artists.
---
Call for Proposals: CATR/ACRT 2014 — 360° of Engagement
January 6, 2014
Kimberley McLeod (PhD4) and Helene Vosters (PhD4) are organizing  a seminar for  Canadian Association for Theatre Research Conference 2014 — 360° of Engagement: Publicly-situated performance—Publicly–situating performance process. Please visit Call for Proposals: CATR/ACRT 2014 for more information.
---