Dissertation or MRP title:
Theatre, Performance and Digital Tools: Modeling New Modes of Political Engagement
Bio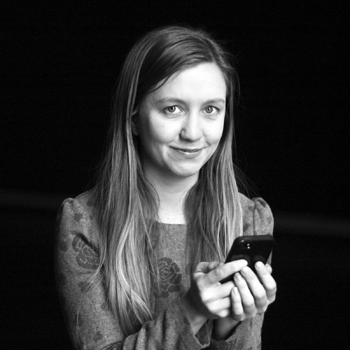 Kim McLeod is a PhD candidate in Theatre and Performance Studies at York University. Her research investigates how performance can work with new media forms to facilitate political engagement. Kim's dissertation chapters look at a diverse range of performances—from performance interventions in first-person shooter games to mobile phone walking tours to theatre productions that use social media as a mode of participatory engagement. Kim's paper presentation at the 2013 meeting of the Canadian Association for Theatre Research, which discussed two performances using mobile media, won the Robert Lawrence Prize for outstanding paper by an emerging scholar. Her work has been published in Canadian Theatre Review and Theatre Research in Canada. With Helene Vosters, Kim organized the Theatre & Performance Studies Graduate Symposium, Performance in/and the Street (2013), and the 360 Degrees of Engagement: Publicly-Situated Performance—Publicly-Situating Performance Process Seminar for the Canadian Association for Theatre Research (2014). Kim is also a performer, deviser and dramaturg whose work has been seen across Canada, Ukraine, Belgium and the UK. Most recently, she devised a site-specific and digital performance project for the Encuentro conference of NYU's Hemispheric Institute for Performance and Politics, held at Concordia.
What you like to do when you aren't being a grad student
Outside of theatre and academia, Kim likes to cook, travel, and take care of cats.