Bio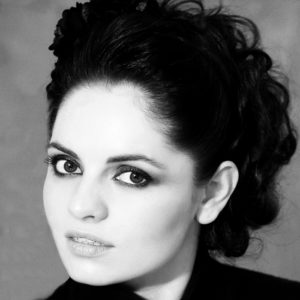 Singer, Songwriter, Actress, An Honoured Artist of Ukraine with more than 10 years experience of traveling internationally to share her music and culture with the world.
She holds Master's Degree in Choreography from the National Academy of Leading Staff of Culture and Art of Ukraine (Kyiv) and worked successfully as the main soloist (folk-pop singer) of the State Ensemble of song and dance of Ministry of Internal Affairs of Ukraine. Marta recorded 5 CD albums of ancient, folk, electro and original pop songs; released few official music videos; collaborated with children folk-ethnographic group "Malenki boiky".
These days, Marta is working on MA in Theatre and Performance program at the York University, participating at the ethnographic research-creation project "The Morning I Died" by Lynn Hutchinson Lee, led by Magdalena Kazubowski-Huston within the Centre for Imaginative Ethnography, collaborating with Canadian musicians, movie directors, and continuing her world-music performances. Marta's research based on Culture of Politics and Environmental Activism; Multiculturalism and Ethnography.
What you like to do when you aren't being a grad student
I am working on my English Music Album with Canadian multi-instrumentalist and song-writer Denny DeMarchi and our upcoming music videos. One of them, "Christmas Day", you can already watch:
Website: martashpak.com